Perfectly Roasted Parmesan Potatoes
Welcome to our comprehensive guide on preparing the most delectable and crispy Parmesan roasted potatoes! If you're a fan of savory, golden-brown potatoes with a cheesy twist, you've come to the right place.
In this article, we will walk you through the step-by-step process of creating these mouthwatering delights, ensuring that you achieve exceptional results every time. Say goodbye to lackluster potato dishes and get ready to impress your friends and family with this flavorful recipe.
Why Choose Parmesan Roasted Potatoes?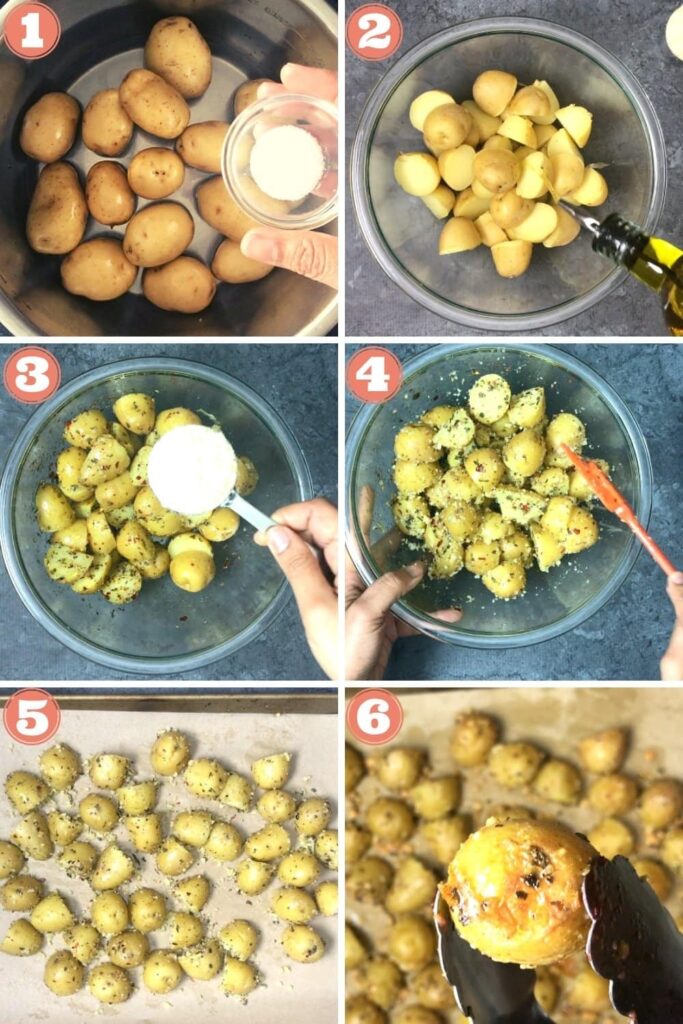 Parmesan roasted potatoes offer a delightful blend of textures and flavors that make them an instant favorite. Crispy on the outside, tender on the inside, and generously coated with a delightful Parmesan crust, these potatoes elevate any meal from ordinary to extraordinary. The umami-packed Parmesan cheese enhances the taste of the potatoes, creating a symphony of flavors that will leave your taste buds begging for more.
Ingredients You'll Need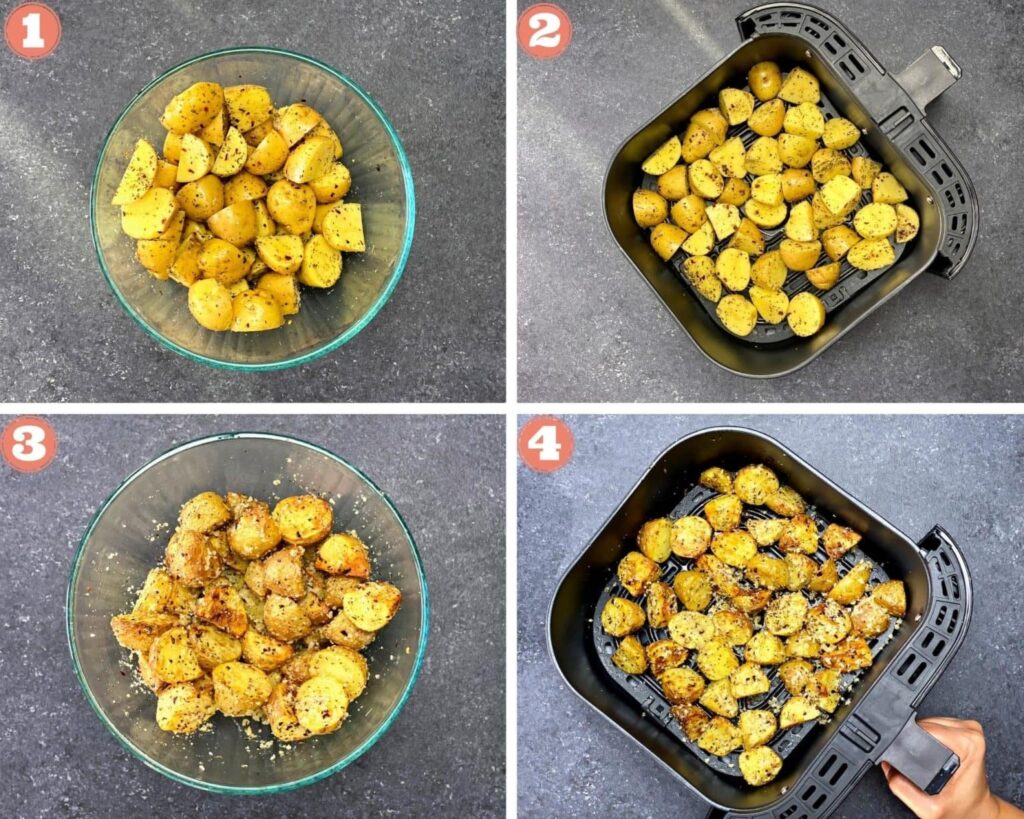 To begin your culinary journey to potato perfection, gather the following ingredients:
2 pounds of baby potatoes (Yukon Gold or red potatoes work well)
2 tablespoons of olive oil
1/2 cup of grated Parmesan cheese
2 cloves of garlic, minced
1 teaspoon of dried oregano
1 teaspoon of dried thyme
1/2 teaspoon of paprika
Salt and black pepper to taste
Fresh parsley for garnish
Step-by-Step Instructions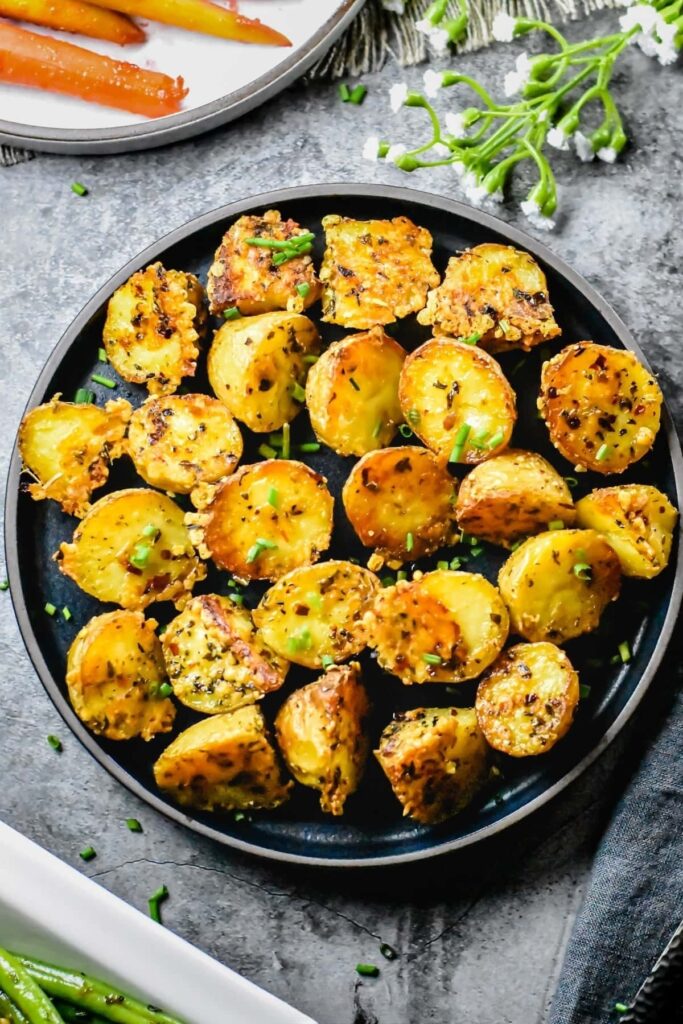 1. Preparing the Potatoes
Start by preheating your oven to 425°F (220°C). Wash the baby potatoes thoroughly and pat them dry with a paper towel. If the potatoes are larger than bite-sized, cut them into halves or quarters to ensure even cooking.
2. Creating the Parmesan Mixture
In a large mixing bowl, combine the olive oil, minced garlic, dried oregano, dried thyme, paprika, salt, and black pepper. Mix well to create a flavorful base for the potatoes.
3. Coating the Potatoes
Add the dry baby potatoes to the mixing bowl containing the Parmesan mixture. Toss the potatoes until they are evenly coated with the seasoned oil.
4. Preparing the Baking Sheet
Line a baking sheet with parchment paper or lightly grease it to prevent sticking. Transfer the coated potatoes onto the baking sheet in a single layer, ensuring they have some space between them.
5. Roasting the Potatoes
Place the baking sheet in the preheated oven and roast the potatoes for approximately 30-35 minutes or until they turn golden brown and crispy on the edges. Remember to flip the potatoes halfway through the cooking process to ensure even browning.
6. Adding the Final Touch
Once the potatoes are perfectly roasted, remove them from the oven and immediately sprinkle the grated Parmesan cheese over them while they are still hot. The residual heat will melt the cheese, creating a delightful crust on the potatoes.
7. Garnish and Serve
Garnish your Parmesan roasted potatoes with freshly chopped parsley for a pop of color and added freshness. Serve the dish hot as a delightful side to complement your main course.
Conclusion
Congratulations! You've just learned how to make the most irresistible Parmesan roasted potatoes that are sure to impress both friends and family. The combination of crispy textures, savory flavors, and cheesy goodness will undoubtedly make this dish a crowd-pleaser. Whether you're hosting a dinner party or enjoying a quiet meal at home, these potatoes will elevate your dining experience to new heights.
So, next time you're craving a delicious and visually appealing side dish, don't hesitate to whip up a batch of Parmesan roasted potatoes following our foolproof recipe. And remember, cooking is an art, so don't be afraid to experiment with different herbs and spices to make the dish uniquely yours. Happy cooking!